Ending waiting for "LINE Jojo Hunt over the centuries Star Sparks Shooter "(LINE: JOJO'S BIZARRE ADVENTURE - Stardust Shooters) A fun game application to play on smartphones. Under the cooperation between LINE GAME and BANDAI NAMCO ENTERTAINMENT Ready for download today Both on the iPhone and Android
In order to celebrate the official launch of both iOS and Android versions, the game "LINE Jojo Hunt Over the Century The sparkling star shot "has organized many special giveaways in the game, such as" Joseph's rare coin, 3 "," diamond "and" upgrade item "etc. If you log in during the event Will also receive diamonds in the free game as well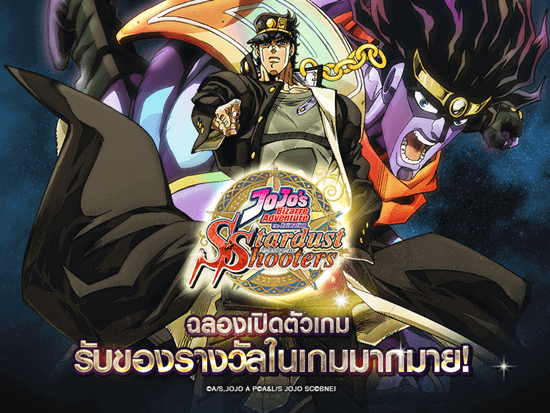 Game "LINE Jojo Hunt Over the Century Star Sparks Shooter "is open in Japan by BANDAI NAMCO ENTERTAINMENT under the name" JOJO'S BIZARRE ADVENTURE - Stardusts Shooter "with various game highlights. Whether they are various characters That appeared in the form of a coin unit The player must shoot this unit to fight the enemy to win. Special skills in the game make the competition fiercely exciting. It has been very popular with the amount of downloads higher than 6 million times ever.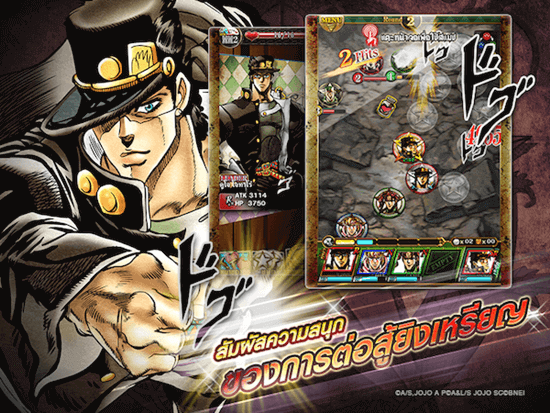 Combat within the game focuses on 3 techniques to destroy enemies, including smash abilities and skill spells. By touching the screen at the coin while moving Each coin has different abilities. For example, can increase the attack power of yourself or your friend or reduce the enemy's ability. In addition, when the skill gauge is accumulated Can use the skill command Which will cause damage to a wide range of enemies Players can enjoy fighting with fierce skill. Ready to enjoy the dialogue and the scene perfectly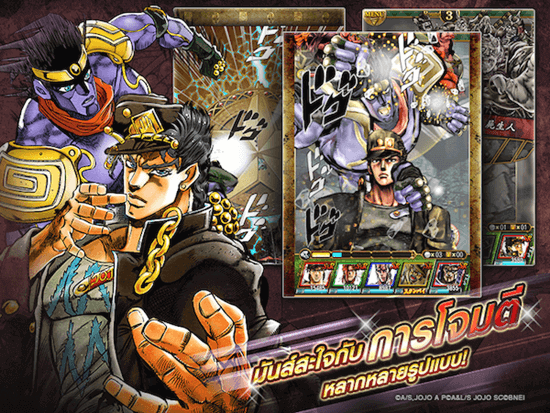 In addition to fighting, shooting coins, "LINE Jojo Hunt over the centuries "Sparkling Stars" also has a special unit upgrade system called "Limit breakdown" when the coin has passed the limit Players will be able to install that coin's ability to other coins. And can also combine a variety of capabilities To create the ultimate, powerful coin as well And can use the units of the characters to be as useful as they want!
"LINE Jojo Hunt over the centuries Sparkling Star Shooter "is available for free download on both iOS and Andriod. Some items can be purchased from within the game. Players can follow news from the Social Account "LINE GAME".
★ Game name: "LINE Jojo Hunt over the centuries Sparkling Star Shooter "
★ Supported systems: App Store, Google Play
★ Languages: Chinese, English and Thai.
★ Service countries: Taiwan, Hong Kong, Macau, Thailand, Indonesia, Malaysia and Singapore
★ Price: Free (with items purchased in the game)
★ Service Provider: LINE GAME
★ Copyright owner:
© Hirohiko Araki / SHUEISHA, JoJo's Animation Project
© Hirohiko Araki & LUCKY LAND COMMUNICATIONS / SHUEISHA ・ JOJO's Animation SC Project
© BANDAI NAMCO Entertainment Inc.
Come compgamer